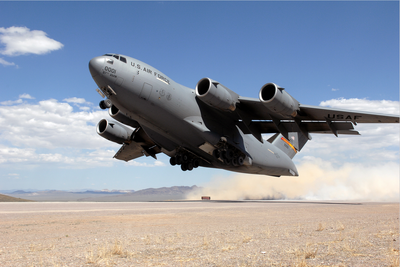 The C-17 Globemaster, was built by Boeing to replace the C-141 Starlifter and To continue it's Globemaster series left off by MD Douglas, with the C-124 Globemaster II. The Globemaster III still serves as the USAF's Primary strategic airlifter for cargo and paratrooping.
Description
Edit
The C-17 first flew in 1991 and entered service in 1995 and was demonstrated as one of the most reliable transport. The C-17 Is still being built and Is still in service and is a special favorite of all airmen. The C-17 serves other countries including Britain, Kuwait,Austaralia, Canada, Qatar, the Emirates, NATO, and India. The C-17 originally developed by Mcdonnel Douglas and produced under Boeing. Now the C-17 Serves as an airlifter, paratroop aircraft, and even has a proposed civilian version. The Globemaster III serves now in many flights and missions. Once the C-17 even once carried cargo like aircraft, trucks, a whale, and Building parts. The C-17 can go up to 515 mph, can climb to 45,000 feet and fly for 2,754 miles until needing mid air refueling, all benefits. The C-17 is expected to serve into the near future and Has recently received high praise by pilots.
Back to 50 LARGEST AIRCRAFT list!!!!!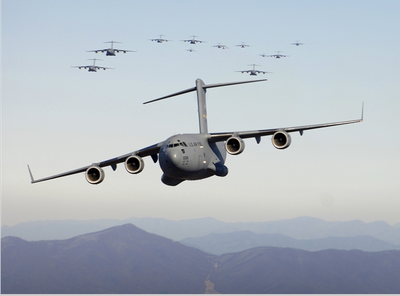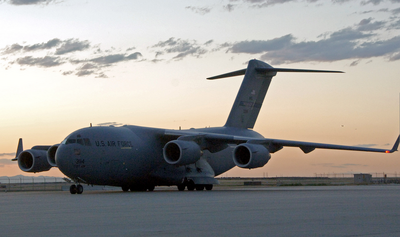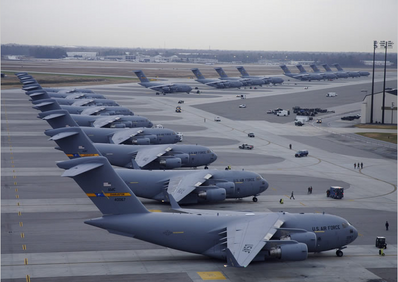 Ad blocker interference detected!
Wikia is a free-to-use site that makes money from advertising. We have a modified experience for viewers using ad blockers

Wikia is not accessible if you've made further modifications. Remove the custom ad blocker rule(s) and the page will load as expected.