44th largest aircraft:  The MI-26 was built by soviet helicopter company, Mil. It fulfills duties such as cargo transport, medical assistance, and even as an airliner. 
Description
Edit
The Halo was built in the time of the Soviets, and they needed a huge transport helicopter, so Mil built the largest helicopter to date. The Halo is also a very durable and powerful aircraft, being chosen for many jobs, including Sky diving host, help at Chernobyl, the mammoth recovery in the Siberian tundra, anti-submarine warfare and many many more. Lately a new company is upgrading the MI-26 for modern use, and also the Halo served as an airliner for the Russian Aeroflot service. Lately they have also helped put out fires and perform everywhere in airshows. Being the largest helicopter ever built it won't be forgotten for years....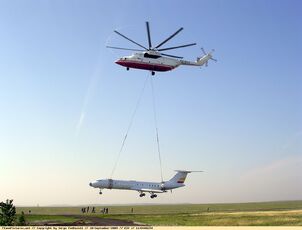 Back to the list !
Ad blocker interference detected!
Wikia is a free-to-use site that makes money from advertising. We have a modified experience for viewers using ad blockers

Wikia is not accessible if you've made further modifications. Remove the custom ad blocker rule(s) and the page will load as expected.