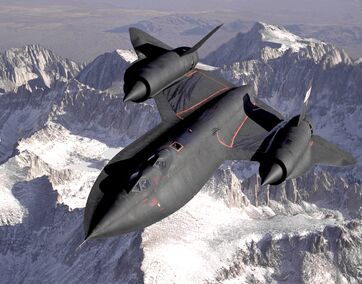 48th largest aircraft : The SR-71 is a supersonic reconnisaince and surveillance aircraft, simply put, it was a spy plane, and is known famously for its features.
Description
Edit
This aircraft is the second fastest aircraft developed in history (second only to the X-15) and can fly over mach 3 near the edges of space were pilots wear full flightsuits... which make this bird so famous! The SR-71 was designed by Lockheed for advanced long-range surveillance missions serving the Air force for over 28 years and still flies today in airshows, 32 were built 20 survive today. Soon upgrades were installed such as stealth points, air inlets, and aerial refueling points. This aircraft is most impressive as it is truely large, but can fly so fast! Recently the famous SR-71 is now featured in various medias such as the movie Transformers, and the Video game Call of duty. These legendary aircraft will still fly for years to come.
Back to the list !
Ad blocker interference detected!
Wikia is a free-to-use site that makes money from advertising. We have a modified experience for viewers using ad blockers

Wikia is not accessible if you've made further modifications. Remove the custom ad blocker rule(s) and the page will load as expected.